Meet the 50 Great Sparkling Wines of the World 2013 Judges – Colin Harkness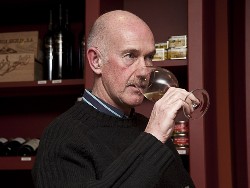 In continued celebration of our first 50 Great Sparkling Wines of the World book, we are introducing yet another of our impressive judges. As previously mentioned, upon choosing who we would invite to participate in our judging panel, we sought to fill some specific niches. While we approached Colin due to his wealth of experience in the wine world, he undoubtedly has the passion and perspective to fill any given space at our table.
While it is fairly common to have some familial or communal influence directing one's path into the wine industry, such was not the case with the likes of the now celebrated wine guru, Colin Harkness. Growing up in a home absent of any alcohol in the UK, it wasn't until after Colin graduated from physical education teaching college and began working that he became familiar with fine foods, which finally led him to becoming completely smitten with the fine wines that paired with them. His thirst for more knowledge and experience with wine took off at a rocket's pace, as he picked the brains of friends most familiar with the allured concoction and eventually took it upon himself to dive deeper into the wine world.
After many years of teaching, Colin was offered the prestigious and much coveted position as a professional football scout for English Premier League team, Liverpool FC. Whilst continuing his love affair with wine, Colin took the position, only to relinquish it years later when his passions bubbled over at last. Noticing a lack of wine enthused restaurants in his area, he took it upon himself to fill this gap and opened up his first restaurant with much success. Colin studied diligently to ensure that his wine and pairings were exceptional, taking several courses and even eventually achieving a Wine & Spirit Education Trust certification.
Colin's enthrallment further intensified when he moved to Spain and began focusing locally. Realizing the potential for a career in his new country, he approached the English Language Newspaper Group and immediately began his own wine column. Sixteen years later, he is still writing the column, suitably named, Cork Talk, which had led to many invitations to write for several other magazines and newspapers in Spain and the UK and to attend major wine fairs locally and even globally, all of which Colin has enthusiastically welcomed and accepted. He has even written and presented television specials about wines from southeast Spain in Regional networks and is featured as a wine specialist on several different radio programs.
Through the various positions Colin has undertaken within the industry since his initial involvement, he has gained immense respect as an ultimate authority on all things wine. Most recently in 2010, he began receiving requests to judge wine competitions, the first of which was the prestigious Cata-Concurso DO Rías Baixas Albariño, followed by the Certamen de Vinos Yecla, the Decanter Magazine Spanish Panel, and even the world famous International Wines and Spirits Competition, which he has attended annually.
50 Great Sparkling Wines of the World will be available to download free by 1 October 2013. Click on the photo for a free copy: