April 2002 – November 2002 Our travel plans changed somewhat. Claire-Marie Soprano and I were offered a place as Entertainers as part of the Saga Team on River Cruises in Nederlands, Germany and France. I became the resident Wine Specialist on the Rex Rheni presenting regular Wine Appreciation Talks as well as Wine Tastings, plus accompanying and assisting on the various winery visits. I also became the Quizmaster and Gamesmaster, as well as commentating in the wheelhouse, with the Captain, on the various points of interest as we cruised the rivers, canals and waterways.  I was also able to continue recording my Wine Show with Valley FM (www.valleyfm.es), as well as writing the occasional article for 5Barricas.
2001 – 2002 During our travels, at first in France, then traversing Italy, tasting the culture, the food and the wine, of course, I continued to Vlog, recording my thoughts on many of the wines we tasted and indeed the wineries which produced them, where we were always made very welcome.
December 31st 2020 my wife, Claire-Marie Soprano, and I started our travels through Europe, which we continue to the present day, including occasional visits home to Spain. In fact I have moved into semi-retirement during this time, keeping my Radio Wine Show and recently restarting my 5Barricas articles. I am also writing my 2nd, 3rd and fourth novels.
December 2020 my first novel, 'Harriet Mercedes' was published.
September 2020 I was asked to write for the Spanish online Wine Magazine, 5Barricas. Unfortunately, Covid restrictions and the pandemic's impact on advertising sales saw my articles postponed from March 2021. However, I have been reinstated from November 2021.
February 2020 I was given my first monthly Wine Show on Valley FM. This show continues to the present day.
July 2019 I was appointed Guest Wine Speaker on the Fred Olsen Cruise M1918 Bordeaux/Northern Spain but was unable to attend for medical reasons.
NB Throughout 2019 I have been invited to judge on various panels for Spanish National Wine Competitions and International Wine Competitions but was unable to attend for medical reasons. I hope to be back to full fitness for such events in 2020.
December 2018 invited to join the judging panel of Grandes Pagos de España (unable to attend dues to serious illness).
June 2018 invited to be a guest contributor, via phone link, on UK based Channel Radio 2, promoting the case for Cava as the go-to Summer Drink.
May 2018  invited to join the judging panel of the XX Concurso Nacional de Vinos, premios Confradía del Vino Reina de la Monastrell, in Murcia. This prestigious national competition invites bodegas in Spain to submit rosado and red wines which have a minimum of 50% Monastrell in their blends. The Spanish variety, Monastrell (known elsewhere as Mourviédre or Mataró), is becoming increasingly popular throughout the world – medals in this competition are therefore highly sought after! 
 May 2018 invited once again to judge at the DOP Yecla Annual Wine Competition, XI Certamen de Vinos Yecla San Isidro 2018.
March 2018 invited to once again join the Spanish Panel judging at the International Wine & Spirits Competition, the oldest International Wine Competition in the world.
September 2017  accepted for membership of the prestigious Circle of Wine Writers.
June 2017 invited to join the Judges Panel of 50 Great Cavas – the seventh edition of this prestigious Cava Competition.
May 2017 invited to join the Judges Panel of the prestigious International Wine Contest Bucharest, Romania.
May 2017 invited once again to judge at the DOP Yecla Annual Wine Competition, "X Certamen de Vinos Yecla San Isidro 2017".
April 2017 invited to judge at La Cofradía del Vino Reino de la Monastrell convoca el XIX Concurso de Calidad de vinos elaborados con uva Monastrell
April 2017 invited again to judge at the International Wine & Spirits Competition, Spanish Panel.
March 2017 invited once again by the Consejo Regulador de la DOP Bullas to serve on the Judges Panel of the 'Certamen de Calidad de Vinos DOP Bullas, este año en su Décima edición', the 10th edition of the DOP Bullas Wine Competition.
September 2016 appointed Brand Ambassador for Spain, 'Glass of Bubbly' UK based, international magazine devoted to promoting Sparkling Wines of the World.
MAY 2016 acknowledgement in the Spanish Press (ABC Newspaper) following the Annual DOP Yecla Wine Competition (see below):
Vinos de las bodegas Castaño y Barahonda se han llevado los principales premios del certamen que organiza cada año la denominación de origen Yecla y que en esta ocasión ha contado en el jurado con expertos de la talla de Colin Harkness, Catador del panel International Wine and Spirits (IWSC) y Peer F Holm, vicepresidente de la Asociación de Sumilleres de Alemania.
May 2016 invited once again to join the Judges Panel of the IX Certamen de Vinos de DO Yecla (the annual DO Yecla Wine Competition) – where I will be, once again, the only foreign judge.
April 2016 invited to join the team behind the International Wine Tourism Conference in Barcelona www.iwinetc.com
March 2016 for the second consecutive year invited onto the Judges Panel of, this time, the IX Muestras de Vinos de DO Bullas, the 9th Annual DO Bullas Wine Competition.
This is a great honour, for, once again, I will be the only foreigner on the panel. It's also an absolute delight – there are excellent wines in Bullas!
February 2016 invited to join the Total FM Team of Presenters with my own fortnightly programme, The Fine Wine & Gourmet Dine Programme. Total FM 91·8 and www.totalfm.es
January 2016 redefined IWSC role, now titled International Wine & Spirits Competition Brand Ambassador for Spain.
March 2015 invited onto the Judges Panel of VIII Muestras de Vinos de DO Bullas, the 8th Annual DO Bullas Wine Competition.
October 2014 joined the writers team of Glass of Bubbly Magazine www.glassofbubbly.com with particular responsibility for Spanish Sparkling Wines other than Cava. Delighted to be able to promote the excellent sparkling wines made in Spain which don't go by the name Cava, but which can be every bit as elegant! Very pleased also to join such a talented and experienced team of writers!
 May 2014 invited for the second time onto the Judging Panel of the VII Certamen De Vinos Yecla (DO Yecla Wine Competition).
November 2013 Appointed International Wines and Spirits Competition (IWSC) Agent for Spain.
This appointment will give me further opportunity to promote the wonderful Wines of Spain, and of course, those who produce them!
August 2013  50 Great Sparkling Wines of the World
Meet the 50 Great Sparkling Wines of the World 2013 Judges – Colin Harkness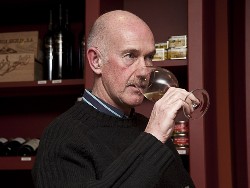 In continued celebration of our first 50 Great Sparkling Wines of the World book, we are introducing yet another of our impressive judges. As previously mentioned, upon choosing who we would invite to participate in our judging panel, we sought to fill some specific niches. While we approached Colin due to his wealth of experience in the wine world, he undoubtedly has the passion and perspective to fill any given space at our table.
While it is fairly common to have some familial or communal influence directing one's path into the wine industry, such was not the case with the likes of the now celebrated wine guru, Colin Harkness. Growing up in a home absent of any alcohol in the UK, it wasn't until after Colin graduated from physical education teaching college and began working that he became familiar with fine foods, which finally led him to becoming completely smitten with the fine wines that paired with them. His thirst for more knowledge and experience with wine took off at a rocket's pace, as he picked the brains of friends most familiar with the allured concoction and eventually took it upon himself to dive deeper into the wine world.
After many years of teaching, Colin was offered the prestigious and much coveted position as a professional football scout for English Premier League team, Liverpool FC. Whilst continuing his love affair with wine, Colin took the position, only to relinquish it years later when his passions bubbled over at last. Noticing a lack of wine enthused restaurants in his area, he took it upon himself to fill this gap and opened up his first restaurant with much success. Colin studied diligently to ensure that his wine and pairings were exceptional, taking several courses and even eventually achieving a Wine & Spirit Education Trust certification.
Colin's enthrallment further intensified when he moved to Spain and began focusing locally. Realizing the potential for a career in his new country, he approached the English LanguageNewspaper Group and immediately began his own wine column. Sixteen years later, he is still writing the column, suitably named, Cork Talk, which had led to many invitations to write for several other magazines and newspapers in Spain and the UK and to attend major wine fairs locally and even globally, all of which Colin has enthusiastically welcomed and accepted. He has even written and presented television specials about wines from southeast Spain in Regional networks and is featured as a wine specialist on several different radio programs.
Through the various positions Colin has undertaken within the industry since his initial involvement, he has gained immense respect as an ultimate authority on all things wine. Most recently in 2010, he began receiving requests to judge wine competitions, the first of which was the prestigious Cata-Concurso DO Rías Baixas Albariño, followed by the Certamen de Vinos Yecla, the Decanter Magazine Spanish Panel, and even the world famous International Wines and Spirits Competition, which he has attended annually.
I was delighted to be asked to Judge this inaugural Sparkling Wine Competition in Cataluña; and quite humbled to read the above blog written by the organisers!
May 2013 – VI Certamen De Vinos Yecla (DO Yecla Wine Competition)
May 2013 – International Wines and Spirits Competition ; Judging Italian Wines
April 2013 – Olsen Cruises Cruise Speaker 

April 2012 – International Wines and Spirits Competition (IWSC); Judging Portuguese and Spanish Wines.
See the article in full here and here
January 2012 – International Wine and Spirits Competition
I have been added to the list of approved IWSC International Wine Judges and will be attending my first judging sessions in Guildford, UK, in April 2012, tasting and scoring Spanish and Portuguese wines. I am delighted to receive this further recognition and I hope this will be the start of a long and successful relationship with the prestigious International Wine and Spirits Competition.
October 2011 – Decanter Magazine's Spanish Panel
I was co-opted onto this prestigious judging panel to taste the 2007 vintage La Rioja.
October 2011 – Sala de los Mejores Vinos de España, Guía Peñin 2012
I was invited, along with other wine professionals, to taste the top rated wines of the new 2012 edition of the Guía Peñin.
August 2011 – Denominación de Origen Rías Baixas Cata/Concurso
I was invited to join the DO Rías Baixas Consejo Regulador Judging Panel to judge the 2010 vintage Albariño wines.
August 2011 – Vines and Soils – a short informal course delivered by Señor Antonio Palacios and his daughter Barbara Palacios López-Montenegro
Two of my fellow panel members above were Antonio and Barbara who invited me to their vineyards in La Rioja and the their house to further my studies about vines and suitabvle soil types in La Rioja.
WSET Certificate 1991:
My first step into the officially recognised world of wine knowledge and appreciation. The necessary books and literature etc arrived soon after for me to further my studies and take the WSET Diploma (perhaps leading eventually to the Master of Wine [MW] top qualification?). However I moved to Spain and decided instead to concentrate on Spanish wines, there being hardly any wine from other countries available here!
"Eres Tu" performed by Dolce Divas. Dolce Divas (Click to visit their website)specialise in Classical Music and Opera Favourites, giving recitals in concert halls and also providing Wedding Music, Romantic Chill-Out and Cocktail-Bar music for hotels and restaurants.